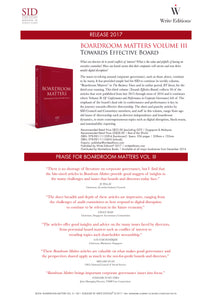 Boardroom Matters Vol 3: Towards Effective Boards
Olive and Latte
Regular price $35.00 Sale
What can directors do to avoid conflicts of interest? What is the value and pitfalls of having an executive committee? How can boards ensure that their companies will survive and even thrive amidst digital disruption?
The issues revolving around corporate governance, such as those above, continue to be many. It has provided ample fuel for SID to continue its weekly column, "Boardroom Matters" in The Business Times and its online portal, BT Invest, for the third-year running, is third volume (Towards Effective Boards) collects 50 of the articles that were published from 
late 2015 through most of 2016 and it continues where Volume II (Of Conformance and Performance in Corporate Governance) left of. The emphasis of the board's dual role in conformance and performance is key in the journey towards effective directorship. The short and punchy articles by SID Council and Committee members, and staff in this volume, range from age-old issues of directorship such as director independence and boardroom dynamics, to more contemporaneous topics such as digital disruption, black swans, and sustainability reporting.